Slam Dunk is one of my favorite shows of all time and I can't believe it's been almost 25 years since its first anime episode was aired. Like most anime series, Slam Dunk started off as a shounen manga by Inoue Takehiko that was serialized in Weekly Shounen Jump from September 1990 to June 4, 1996.
I can't say I'm a fan or that I hate basketball but most of the time, I do enjoy watching basketball games but I'm just really too lazy to put an effort into watching some these days, haha.
Back to what I'm saying, Slam Dunk was one of the most popular anime in the Philippines during my childhood. I can still clearly picture the kids in our neighborhood all huddled together in our small sofa making no noises at all because they're so absorbed with the anime. All the feels ma-men!
What I like about Slam Dunk (and I'm sure some viewers out there would too) is that it focuses more on the entire team and not just one or two players which in short displays this anime in a more realistic play than other basketball anime out there where winning comes from team effort and not just selfish individual plays. Plus, it has a rougher and more realistic style than the rest too, and is packed with lots and lots of comedy as well.
When talking about basketball anime recommendations, I'm sure Slam Dunk is always on the top spot. And as my way of thanking sensei Inoue Takehiko for this amazing work of art, I am giving you guys these 8 of so many reasons why Slam Dunk is a well-loved series, both anime and manga.
Basketball
Whether you're into sports or not, you can't deny how popular basketball is with over 1 billion fans worldwide. When Slam Dunk was first aired, basketball wasn't that big of a deal in the '90s across Asian countries and this anime basically swept us all to our feet when it introduces how wonderful this sport could be.
Slam Dunk is basically a perfect anime for everyone, whether you know basketball or not, because it caters to any kind of viewers. It properly explains what you need to know about basketball that in the end, you can't help but feel like you're a basketball tensai like Hanamichi Sakuragi himself, *wink.
Teamwork
What I like about sports anime/shows is that they always gave us a thing or two lessons (or even more) about the importance of working as a team. And Slam Dunk gave us plenty in that division. Eventhough we have a main protagonist, Slam Dunk didn't give us a one-man team but a team that works hard together to win. All the players in the team work hard to achieve their goal, and that being said, each character got the chance to really showcase their talents as well.
Actually, it's not just about teamwork but Slam Dunk also gave its viewers a lesson about determination, perseverance, and ofcourse about accepting defeat and how you can use it to be better next time and to never give up on your dreams.
Music
All the music this anime used were so nostalgic and full of feels, plus paired with those amazing opening and closing themes made this anime even more amazing.
The funny scenes were classic.
Aside from the fact that it's a sports anime, another thing that fans love about this anime is the abundance of funny scenes, mostly because of the main protagonist, Hanamichi Sakuragi. The lines, the scenes and the arts were so on point.
The basketball they play is realistic and the action is so intense!
I've watched this anime a lot of times already but I'm still caught up with every game even if I already know who's going to win. And I'm sure a lot of fans and viewers feels the same too, *wink.
In relation to that, the visuals of Slam Dunk is hard to beat!
Hanamichi Sakuragi
When someone mentions Slam Dunk, the name Hanamichi Sakuragi almost always comes afterwards. He's definitely one of the biggest airhead (sometimes stupid, moron or a dumbass to some) in the history of anime which makes him one of the most popular anime character out there. He's a big goofball almost all the time but I'm sure a lot will agree that he's one of the most relatable characters out there too. They always call him stupid but there are times that he can look cool too especially if he's serious and when he's on his full game, that's why in the end, viewers can't help but cheer for him.
Team Shohoku
Shohoku started as a really weak team until these talented players came in and little by little showed the entire highschool world of basketball that they're ready to take them on. So yep, viewers can't really help but cheer for them and thus why the main color of this anime is red (and black), *wink.
Characters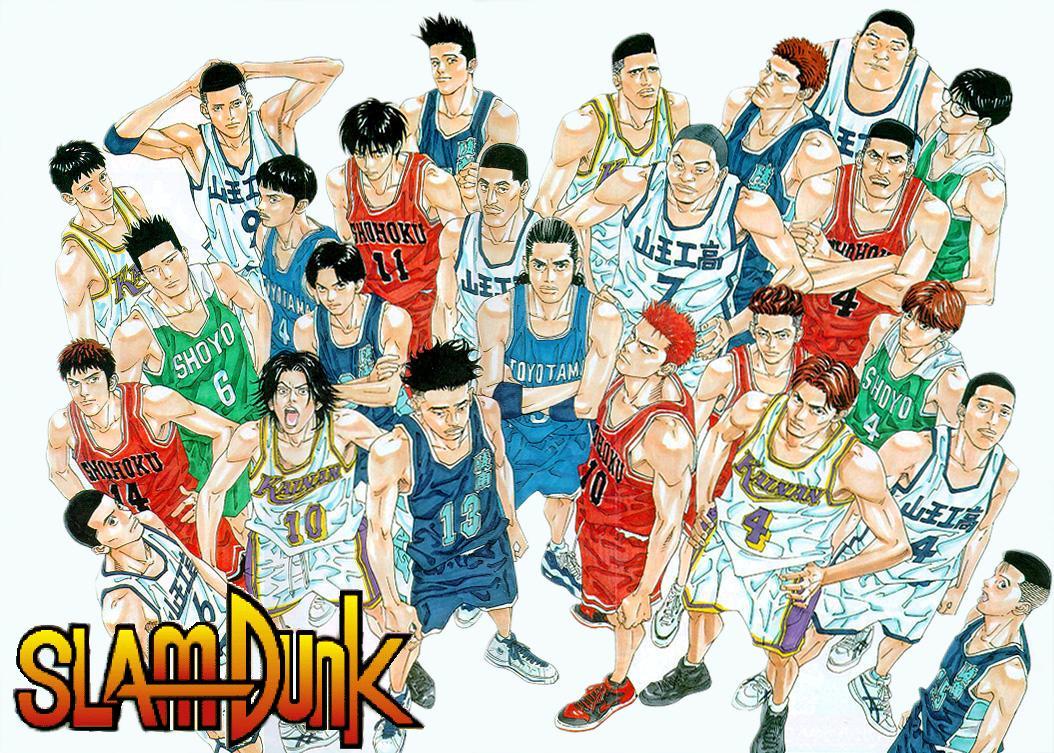 Ofcourse, this anime will never be complete without its amazing set of characters. For this anime, almost all the characters got the chance to show off and really grow. Also, they come in varieties so a lot of viewers can find some characters that they can relate to.
***
And there you have it folks, a run-down as to why Slam Dunk is a well-loved series and why you should either read or watch it soon. Sadly, the anime left off the national championship (I'm always on the verge of tears whenever I see the final episode paired with one of the best anime openings of all time) but that shouldn't prevent you from watching it. You'll love it too, I'm sure of it, *wink.
Subscribe To Blushing Geek